It's like a dream come true, I suddenly acquired a set of new parts for my vintage Sol-20 microcomputer. I've written about this before, someone found that old article from 5 years ago in a web search, and asked me if I'd ever located the parts. I said I gave up, and do you have any? I've hunted unsuccessfully for 10 or 15 years. So he generously offered me a pack of parts, for free. Oh boy.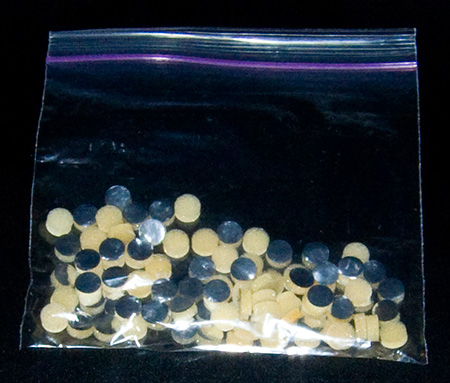 I swear this looks just like a bag of pills. They are little foam pads with foil on one side. These pads were used in the keyboard of the Sol, when you hit a key, it pressed on the foam, pushing the foil into contact with the circuit, then when you let go the foam pushed the key back up. It was an inexpensive design, it worked fairly well, but over the years the foam deteriorated, and today every single Sol is surely unusable due to rotted foam pads.

But now I have the parts I need to get my old Sol back up and running. This is going to be a tedious job, I have to painstakingly disassemble every keyswitch, pick out the rotted remnants of the old pads, clean up the circuit contacts, install the new pads, and put everything back in perfect order. Then my Sol should be restored to full function. I can't wait to see my old computer back in action after all these years.