My house is at war with chipmunks. I have been at war for years, and will probably be at war for many years to come. Chipmunks vex me terribly, and they are winning the war. Here is a picture I took of the enemy, standing right outside my back door.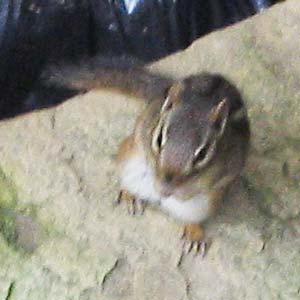 When I first moved in this house and discovered the chipmunks, I thought they were cute. But the little varmints ravage my garden, destroying my tomato and pepper plants. My garden is up on an elevated deck, the chipmunks climb up the stairs and get into the plants and take one bite out of each of the best fruits. Damn those varmints!

My cat discovered the chipmunks and became obsessed with catching them. But chipmunks are extremely quick, they are almost impossible to catch unless you corner them. Kitty discovered you could corner the chipmunks once they got up on my deck if she blocked off the stairway. I think she liked cornering them and toying and tormenting them, but she never actually caught any of them. I cornered them a few times myself. They behave quite strangely when cornered, they will freeze as long as there is something between you and them, but if exposed, they will flee. I accidentally chased them right off the deck a couple of times, and it's not like these are flying squirrels, they belly-flopped on the ground with a loud smack. That kept them at bay for a couple of weeks, but they still came back. But Kitty and I could not corner and capture the enemy chipmunks.

I decided to consult my veterinarian about the problem. Perhaps there was some chipmunk repellent or natural remedy. One of the young vet trainees said she just saw a chapter on chipmunks in her veterinary medicine textbook, she xeroxed it and gave it to me. I learned quite a bit about the psychology of the enemy. Chipmunks live in burrows that always have at least 2 exits. No chipmunk will ever allow itself to be trapped in a spot with only one way out. The textbook recommended that aggressive chipmunks that invade human turf be killed by poisoning. I was not prepared to use chemical weapons against the enemy, I would have preferred to capture the enemy, put them on trial, and exile them to nearby farmland where they could live out their lives without causing further trouble.

One day I was sitting at home and I heard Kitty outside, she was making the most godawful hissing and howling sound. My kitty is very neurotic and it took me years to get her even to meow, she never hisses or howls, and this was the first time had ever heard her in such a frantic state. I rushed outside and Kitty was poised at taut attention, eyes focused on a tarp sitting in the corner of the deck. I could not figure out what was going on, so I went over to lift up the corner of the tarp, and the chipmunk went shooting out. Kitty lunged, but the chipmunk escaped. I had given aid to the enemy, allowing the chipmunk to escape just as it came closer to capture than it ever had before. Kitty was crestfallen.

After this humilating defeat, Kitty lost all interest in hunting the chipmunks. She never wanted to go outside anymore, she lost weight and died a few months later. I felt like my inopportune intervention in the chipmunk war had broken her heart, and she pined away.

So now that my most trusted soldier has passed away, there is nothing to keep the chipmunk population from exploding. Kitty is no longer keeping the enemy at bay, and they are running a new guerilla war, encroaching on my territory. I am in an interminable war, and I have no exit strategy. The chipmunks are winning.