Most painters have a little spot next to their artwork to smear paint around and test their brush before applying it directly to the artwork. Here is the newspaper I used in my current watercolor painting setup, you can click on the picture for a larger view.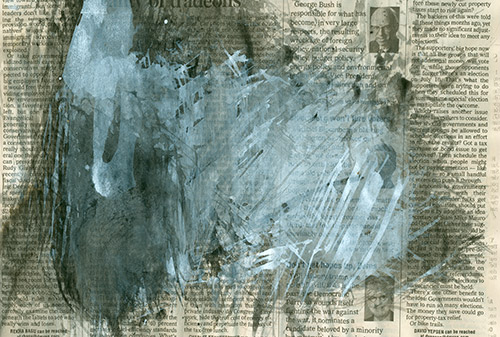 I used to oil paint with my canvas attached to the wall, so I used to wipe my brush right on the wall next to the painting. Here's a photo of what that looks like. It used to annoy me terribly when people would visit my studio and see my paintings in progress, they would be completely indifferent to my work, but they'd go up to the smears on the wall and say, "ooh, what is that?"

But lately I've begun to see what attracts people to these smears. It's an accidental painting done with absolutely no painting intention. It's just a test sheet to see how my brush is loaded and how dark and transparent the pigment is, it's applied over previous test brushstrokes in roughly the same layering as my current painting. So it contains many of the same decisions I make in my current painting, but completely stripped of any deliberate brushwork or imagery. If you think about it, that's quite Postmodernist (especially considering they just end up in the trash).

I remember seeing a video of Chinese students during the Tiananmen Square protests, painting banners with big brushes and sumi ink. They had a room full of big tables covered with fabric and large posterboards, and at the end of each table were sheets of newspapers, covered with black ink. Each sheet of paper was curled up like a little bowl. Sumi ink is thick and full of resin, so once the sheet was covered in ink and dried, it formed a waterproof bowl, and the students would fill them up with ink. I thought that was pretty clever, but I prefer using a ceramic dish.