I just appeared on CNN's Crossfire. If you don't believe me, you can see my sign clearly in this video, even if you can't see me clearly.





The moment I heard Crossfire was coming to Iowa City, I knew I had to attend, and make an attempt to jam the show with my own cryptic sort of message. I have been incensed at Tucker Carlson for a week or so, ever since the "Argyle Incident." Tucker devoted an opening segment on Crossfire to General Wesley Clark wearing an argyle sweater at a campaign appearance in New Hampshire. Tucker tried to make political points from Clark's wardrobe change from a suit to a sweater, he claimed it was an attempt to soften Clark's image and appeal to women voters. Just a week before Tucker's analysis of Clark's wardrobe, New York Times columnist Paul Krugman published rules for serious journalistic coverage of the upcoming election:


Don't talk about clothes. Al Gore's endorsement of Howard Dean was a momentous event: the man who won the popular vote in 2000 threw his support to a candidate who accuses the president of wrongfully taking the nation to war. So what did some prominent commentators write about? Why, the fact that both men wore blue suits.

This was not, alas, unusual. I don't know why some journalists seem so concerned about politicians' clothes as opposed to, say, their policy proposals. But unless you're a fashion reporter, obsessing about clothes is an insult to your readers' intelligence.
And of course, Tucker ignored this sage advice and decided to insult our intelligence by writing about Clark's clothes. Suddenly Clark's argyle sweater was the subject of intense scrutiny from other so-called journalists. Clark finally had to respond to these ridiculous criticisms by declaring it was cold so he borrowed a sweater from his brother-in-law. So much for analyzing his wardrobe for political significance.
But once Tucker gushed forth, the dam broke and political reporters are back to their usual stupid reporting of irrelevancies. So I produced a huge sign just for Tucker: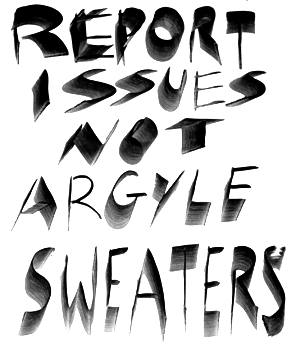 Of course, none of the college students had any idea what the sign meant, so I had to repeatedly explain about the Argyle Incident. I managed to catch Paul Begala's eye as he was standing around getting ready for the show. He saw the sign, pointed to me and laughed, then I turned it around to the other side and he really laughed and gave me a thumbs-up. Tucker was hiding in the bus, but when he came out, I caught his eye too. He was squinting and trying to read the sign, he had a puzzled look like he was trying to figure out what it meant. So I turned it around to show him the other side: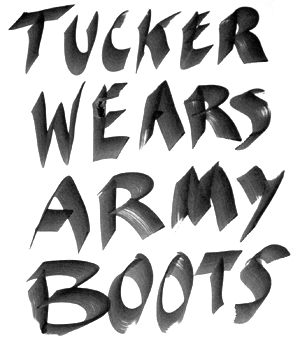 Tucker's eyes opened wide, and he stuck out his tongue at me. And it's true, yesterday Tucker appeared on camera wearing tan Army-issue combat boots that he got during his brief tour of Iraq. But today he was wearing black dress shoes so I guess he didn't get it. Nothing could demonstrate more clearly that Republicans have no sense of humor.
About 10 minutes before the show was scheduled to go live, I noticed the second camera was taping "sweep shots" of the crowd. As the show started, I could see on the monitor that they replayed a crowd shot from tape. So in case you thought the crowd shots in these "live" shows were actually live, you thought wrong. I guess they wanted to insure that nothing live actually happened on camera, they picked the shot they wanted and replayed it from tape. So if you want to appear in a crowd on Crossfire outdoor taping, you better get there early.
As the show was wrapping up, I noticed a CNN producer lining up a group of people with signs in an area that was roped off. The producer picked only young blonde women, I guess she only wanted "camera-friendly" crowd shots. So I decided to get into that shot. The CNN producer snarled at me in a thick British accent, "get OUT of this shot! You were already in our sweep shot!" I was astonished that CNN's US election news was being stage-managed by a foreigner. I yelled back at her, "this sign isn't for the camera, it's for YOU, Miss CNN Producer, why can't you report the ISSUES instead of the candidate's CLOTHING?" She snarled back "we'll talk about it after the show," and walked away. Yeah right.
After the show, Tucker immediately retreated to the CNN bus, but Paul stayed behind and talked to a few people from the crowd. He was beseiged by campaign workers trying to shove sheafs of papers into his hand. Miss CNN Producer tried to pull him away, it was my last shot so I said, "Paul, why didn't you call Tucker out when he did that stupid report on Clark's argyle sweater?" Paul said, "I
did
call him on it!" I replied, "Surely you read Krugman's recent essay on political reporting, he said to cover the issues not the wardrobe. Since Tucker's report, the news has been full of stories on argyle and earth tones. It's your job to keep Tucker honest!" Paul laughed, and said, "I'll do my best. By the way, that's a great sign." And then he ran off back to the bus. If nothing else, he showed he's a masterful politician, he totally took the wind out of my sails by fully agreeing with me, and complimented me in the process. What a performance.
The crowd disbanded, I went back to my car, totally frozen from standing around in the cold for an hour, and drove home. Mission Accomplished.