Trees rarely inspire hatred, but on the campus of the University of Iowa, everyone hates ginko trees. In the center of the Pentacrest, right in front of the entrance of the Registrar's office, some idiot planted a female ginko tree. Every winter, all winter long, the tree drops its seed pods all over the sidewalk. The seeds produce an incredibly foul, persistent stench, which is very difficult to get off your shoes. Everyone that trods upon the seeds tracks the stench everywhere they go. Students and faculty have campaigned for years to get rid of the trees, and today in the Des Moines Register, this story appeared: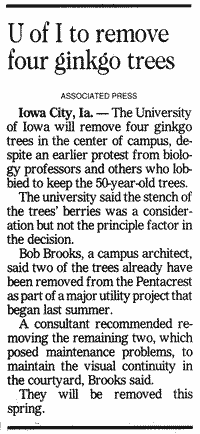 When I was a student, I had to walk past these trees every day, and I often fantasized about pouring a gallon of herbicide on their roots, which goes completely against my nature. I used to do landscaping every summer, I've planted thousands of trees, so I'm very protective of trees in general, but these ginkos are a special case. Every landscaper and nurseryman knows that you just don't plant female ginkos. Most nurseries will kill off the females before they ever grow to maturity, there's just no market for female ginkos. And you have to kill them before they mature, when the trees are sold in the spring, there's no way to tell if they're female, the sex of the trees can only be determined in autumn.

There's a preposterous legend about how these trees came to be planted on the Pentacrest. I heard a story about a group of itinerant buddhist monks came and secretly planted little ginko twigs, sat around the twigs in a circle, chanting their sutras, and in 24 hours the trees grew to full size. What a load of rubbish. There just isn't any group of Johnny Ginkoseed monks, and besides, these trees were planted right in front of the entrance of one of the main buildings on campus, you couldn't have planted anything there without drawing attention, and a circle of orange-robed monks would have drawn quite a bit of attention back in the 1950s.

Another annoying piece of idiocy about ginkos is that nobody can agree on how to spell the name. Properly it is "ginko" since the tree is from asia and the name is written with kanji that are transliterated as "gin" and "ko." So it's most properly "ginko" and not "gingko" or "ginkgo."

There is so much to loathe about ginko trees, I can hardly contain my joy at the announcement of their removal.