I am offering my classic '65 Plymouth Barracuda V8 318 for sale. Please buy it. Please. Please please please. I have over $6500 invested in this car over the years, but I must sacrifice it, I am offering it for sale for $1500. I have seen Cudas in worse shape than this, and with smaller V6 engines listed in Hemmings Motor News for $2500, and that was 5 years ago and these cars are getting rarer. I have listed this car and have 3 interested buyers, but I doubt this is going to get into a bidding war. I guarantee you this car is a great value for $1500, whether you intend to restore it or break it up for parts. This car really needs a Mopar lover to work on it and restore it, it really deserves to be put back on the road, and driven by someone who loves old Muscle Cars.






Look at those classic lines. This car was designed by Darryl Shelby, it was the last car he designed for Plymouth/Dodge before moving to Ford, and it's the predecessor of the Ford Mustang Fastback. The body is in excellent overall shape, it's a California car, it's been parked outside for about 10 years and never been driven in Iowa winters, so it's never been exposed to winter salt. It's got only slight surface rust, no deep rust. All the chrome trim and badges are intact and in good shape. Yes, the tires are flat, they rotted away. If you buy this car, you'll need to haul it away on a flatbed.






Here's a front view. People either love this car or hate it. I think it's so ugly it's cute. I bought this car for $850 in Los Angeles back around 1988, the engine was in horrible shape and blew oil smoke. The brakes were shot and I couldn't drive it more than 10MPH or else I couldn't stop. The transmission was in terrible shape, although it is an incredibly good transmission, a TorqueFlite high performance automatic transmission, matched to the high power 318ci V8 engine. I bought the car because it had really great performance potential. I immediately had the engine, transmission, front suspension, and brakes rebuilt. I never did anything to clean up the body or interior, I always enjoyed having a Muscle Car that looked like a piece of crap, you should have seen the looks on the faces of other drivers when this old junker blew their doors off!

I have over $6500 invested in this car, due to dozens of repairs, it's what you'd call a "bad amateur restoration" since I didn't do any of the repairs myself, they were all done at local auto shops in Los Angeles and Iowa City. Every single mechanical system has been repaired or replaced, including some extremely hard-to-find suspension and transmission parts exclusive to that one 1965 model. When I moved to Iowa, I took this to a local restorer famous for show cars, they told me I could invest about $4000 and get the car into shape so it would sell for about $6500. But that would mean I'd have over $10,000 invested in the car to sell it for $6500. I'd have to spend $4000 more just to get back the $6500 I already had into it. I stopped right there, it would be throwing good money after bad. Essentially, the $6500 investment only preserved $2000 worth of value in the car. So you're getting a great deal if you pay $1500.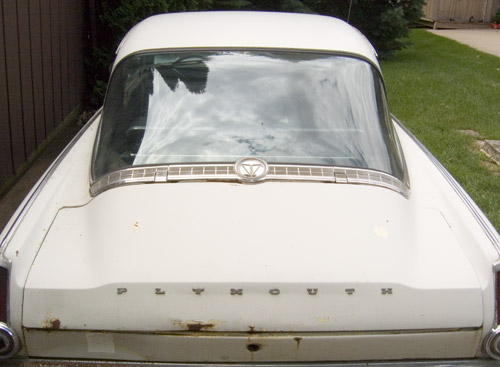 As far as I can tell, this car has never been in a major accident, although it has a few small body problems. A thief once tried to break into the trunk, and they punched out the lock and torqued it with a crowbar. The stupid thing is, there was nothing in the trunk to steal, they just wrecked up the car for nothing. You'll need to fix the lower trunk ledge and install a new lock. That's about the worst body damage, there are a couple of other light dents that could be hammered out easily.







Here's the front interior. This is why I stopped sinking money into this car, I couldn't deal with the expense of repairing the interior. It needs a new headliner, front seats, carpet, etc. etc. The front seats were shot when I bought this. Notice the red housing around the shifter. The 65 Cuda used a shift cable and assembly that was unique to that model, I spent 3 years trying to locate a replacement, and all I could find was one with a red housing. I still have the old black housing if you want to put that part back in place.

Someone tried to steal this car when I had a security bar attached to the steering wheel, and they bent up the wheel and broke out the ring that honks the horn. It steers OK, the wheel isn't bent so far you can't drive it, but you'll probably want to replace the steering wheel assembly. Someone told me this car has the longest rack-to-rack steering of any car ever made. In other words, it takes something like 5 complete turns of the steering wheel to turn the front wheels from full-left to full-right. And it's manual steering. So this car is a real bitch to parallel park. It's not designed for city driving, with that sort of a steering ratio, it's built for flat-out highway driving.







The rear seat is in pretty good shape. It folds down flat, and the rear wall in front of the trunk folds down, so you can put long cargo into the trunk and have room all the way to the front seats. A pretty clever Shelby design.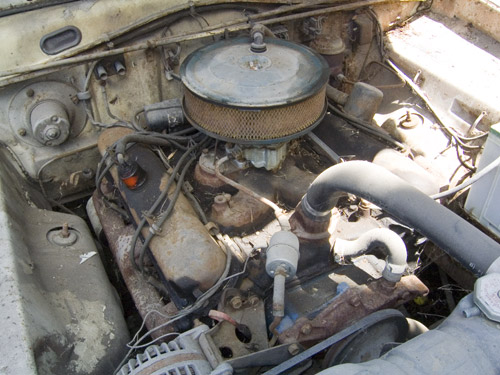 This is the engine. There seems to be some dispute about what this engine really is. When I had it rebuilt, the mechanic told me it was a 318ci engine, but other people tell me this is a 273ci engine. I have no way to tell, I'm certainly no Mopar expert, but it looks like every other Mopar 318 I've ever seen. So I'm callng it a 318 unless someone can prove otherwise. Unfortunately, the rebuilders painted the engine block an ugly rusty brown color, instead of the proper Mopar Orange color (it's not really as rusty as it might appear). You can see a little bit of Mopar orange color on the PCV valve connector going into the valve housing on the left. You can also see signs of various other rebuilds, like the blue paint on the water pump, up front behind the fan belt. You can't really see it behind the air filter, but the distributor and electric system was rebuilt too. I sank a lot of money into this engine over the years. I never would have done it, except that this engine was ultra-reliable and really fast. The engine always started on the first try. I fired it up a couple years ago, and after we cranked it long enough to get fresh gas into the carburetor, it fired right up, no oil smoke, no obvious problems. This car should be drivable in its current condition with only a minor investment in tires and a new battery.

Back when I drove this car daily, there was one thing really obvious: it's really FAST but it would be easy to outdrive the brakes. This car only has drum brakes, only the Cuda S Type had front disc brakes. So if you restore this car, I'd suggest putting in the "S Kit" front disc brake option. Otherwise, if you go hot rodding around in this car, you're going to drive faster than you can stop safely, and get yourself killed.

There are a few extras not pictured that will go with this car. I have 3 original hubcaps, one of them is kind of dented up but the other two are in good shape. There's one square floor mat that appears to be original equipment and is in good shape. I'll even throw in my old antitheft bar, "The Club" and one full-size tire that isn't mounted on a rim.

Now here's the deal. I've had this car parked since 1997. Since then I have tried to find a buyer, sometimes people came along and offered me $1000 and I've flatly refused. I am absolutely firm I will take no less than $1500 for this car. This car is parked at my Mom's house, and she just died so the house is going up for sale, and I need to get this car sold and moved off the property. If you want to buy this car, contact me via email and I'll contact you and we can speak on the phone about terms and delivery.

Note to Internet scam artists who have contacted me about this car: I will not sell this car to buyers from Romania or Nigeria, or other notorious off-continent locations. No, I'm not going to accept a forged $5000 cashier's check and forward $3500 to your bank, so when the check turns out to be fraudulent, I end up losing $3500. What do you think, I'm stupid or something?


Update: June 18, 2005: Sold!







Hey, that doesn't look so bad, now that it's got tires and the hubcaps are in place. I'm just glad it wasn't ME replacing the tires, that was a lot of work!







This is a historic moment, the first time this car has moved since 1997! I bet my neighbors are glad they don't have to look at this car any more.






Bye old Cuda, good luck with your new owner Doug.